HU125-A

Model:HU125-A
Made in:Zhejiang, China
Size:152*60*125 cm
Color: black chromatic
Users: beginner professional player
Weight:248 KG

Brief Introduction:The details of the piano are condensed from the traditional experience for three hundred years of piano manufacturing history, as well as traditional design, precision technology, material selection It s a good choice for families and teaching institutions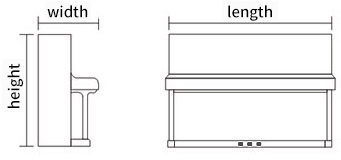 18 layers of maple pin block

FFW hammer felt from German

Shrink File made from Multilayer
Solid Wood Wrapped with Aluminum Alloy

European cartridge pianissimo

Yeddo spruce wood (3A)

Push-button Lock

HAINSWORTH Key-board felt from the UK

Chord shafts

ROSLAU String from German

Key Bed with an Aluminum Alloy Frame

Wood Frame with Maple

Auto-friction strings Device

ebony black keys
Parts and process introduction:

1.Hailun HU125-A is not only in line with the piano industry requirements, but also guarantee the product quality and stability by applying CNC five-axis machining to shape the curve of the soundboard.
2.The drilling work on the HU125-A piano iron plate, the milling of the string reinforcement and the connection between the components of the sound source are completed by the high-tech CNC control equipment, so as to achieve the control of accuracy and the quality of the piano.
3.Hailun's piano makes the precision assembly to meet industry standard requirements through the temperature and humidity control of the wood and workshops, The unique Hailun's positioning patented technology, and the CNC processing technology is from Japan. So that it controls fundamentally the stability of the piano. And so does HU125-A .
4.The ebony keyboard is not only comfortable, beautiful and natural, but also changes the dynamic and static load of the piano by means of built-in counterweight adjustment. Ebony can absorb the sweat during playing and prevent slipping.The keyboard felt is made of HAINSWORTH felt from the U.K. to ensure the depth of the key which is unified and keep good weather adaptation.
5.German FFW hammer felt is used for HU125-A piano. The elastic and hardness distribution of the whole string hammer is uniform, which improves the sound quality. And its appearance is beautiful, and has good durability and weather fastness.
The FFW hammer felt from Germany ensures the softness of sound quality. The ROSLAU high quality strings from Germany can ensure the soft tone and the good overtone of the strings while playing.
6.Hailun HU125-A spruce soundboard plays an important role in the sound quality and tone.
7.The wooden components, such as ribs, dorsal column and so on of Hailun HU125-A is made of many kinds of woods, which can make the piano structure more stable.
8.HU125-A piano tuning peg uses chamfer threading technology so that the toning is smooth without noise.
9.The string axis board of Hailun HU 125-a is made of 18 layers of maple. And it is stable and firm.
10.Automatic friction of the string machine weakens the string stress, and ensures a longer and more stable tone.
11.The key bed with an aluminum alloy frame ensures the key bed difficult to deform. So, the keyboard surface is smooth, and you will feel comfortableness while playing.
12.The HU125-a piano is equipped with a weak sound file that is beautiful and generous. It has rational angle location and no noise in the tap linkage system. And the adjustable gear of aluminum alloy coated solid wood has better stability.
13.HU125-A is equipped with a keycap descent control device to protect the player's hands.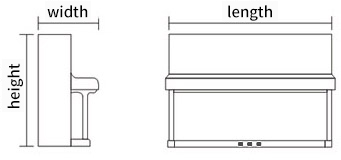 Hammer、FFW hammer felt from German

isometric design for down-string pillow

Chord shafts

maple wrest Plank

Yeddo spruce wood (3A)

Auto-friction strings Device

HAINSWORTH Key-board felt from the UK

European rectangular frame iron plate

ROSLAU String from German

Key Bed with an Aluminum Alloy Frame

Treble embedded chord pillow

Bass Agraffe

Wood Frame with Maple

screw with gasket

Descent control device

Push-button Lock

European cartridge pianissimo